VALENTINERHOF
VACATION IN THE GREEN
VINEYARD EXPERIENCES
Welcome to the Valentinerhof in Eppan Berg on the Wine Road!
Fire, water, earth and air are the beginning of our existence, our newly built family business Valentinerhof.

FIRE stands for energy - sunbathing and sitting in the sun 

WATER stands for cooling down - bathing pleasure in the water

EARTH gives us peace and strength - hikes in the natural surroundings

AIR embodies freedom - conscious breathing in and out in special places.

Here you will find everything you need for a relaxing holiday. Step inside and let yourself be enchanted by the atmosphere and positive vibrations of our house.
UNFORGETTABLY BEAUTIFUL HOLIDAY MOMENTS
at the Valentinerhof
The four charming apartments offer an unforgettable stay amidst the picturesque vineyards of South Tyrol south. Apartments, all furnished with great attention to detail, according to the principle of the four elements. They offer special recreational offers according to the element.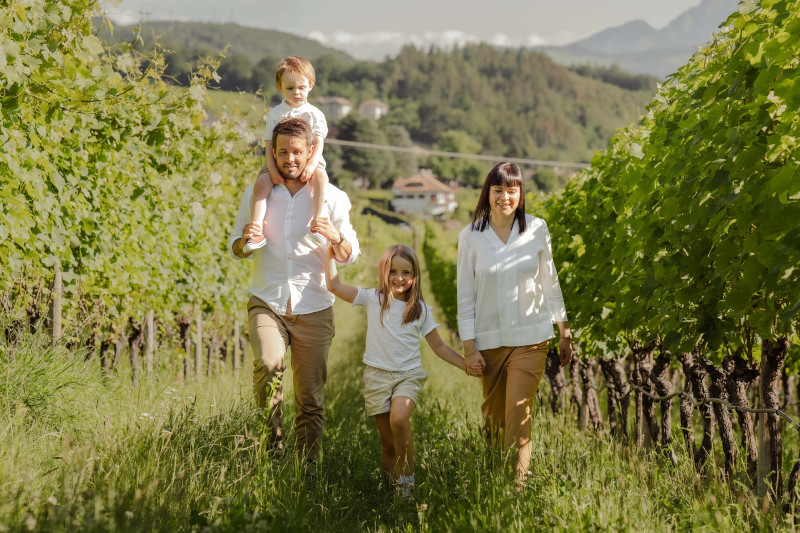 Your hosts
Sabine and Peter Romen
Peter, Sabine, Nina and Rudi welcome you to the newly built, family-run wine & fruit farm in Eppan Berg! Above the village center of St. Michael Appiano, something very special is being built, a farm vacation with farm store and four inviting apartments, whose opening we will celebrate in spring 2024.